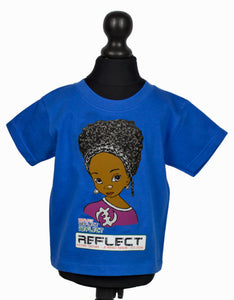 Short Sleeve T-Shirts
REFLECT Short-Sleeve T-Shirt Girls [BLUE], available in various children's sizes from 1 to 13 years+. Larger sizes available on request. Also available in Black, White, Sand, Red, Maroon, Yellow, Gold and Lime.
This is our original (Zummi) design and is the flagship of the REFLECT brand. This is our original design and has the REFLECT Logo and the image on the front.
Check out the alternatives with the image on the back and logo on the front. 
100% Cotton
200gsm (approx)
Soft, very gentle on skin